February 9, 2017
Armored Porsche Cayenne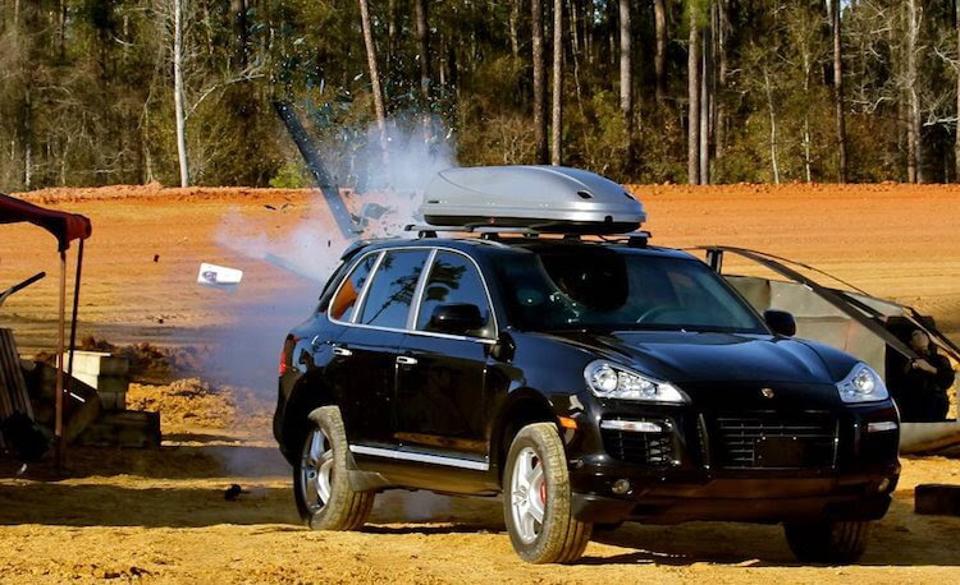 Porsche Cayenne
In today's world, conflicts and hot-spots are very common. As a counter-action against these dangerous areas, armored cars are becoming more and more common, including an armored Porsche Cayenne. However, these vehicles are defensive and meant to escape and stay safe during a dangerous situation rather than deal damage to an attacker.  The level of protection can range from small handguns to high-powered rifles. The vehicle in the video below, built by International Armoring Corporation and retrofitted for offensive weapons by Red Jacket Firearms (the crew from the Discover Channel's show Sons of Guns) is the first Porsche I've seen that can fight back. If you can't see the video in your email simply click on Porsche Cayenne with machine guns to watch it directly on our site).
Details on this weaponized Porsche Cayenne and bulletproof SUVs
International Armoring Corporation (IAC) started with a Porsche Cayenne Turbo as their platform and then armored it to a "B6" level of protection (it has the ability to stop multiple rounds from high powered rifles) using:
Transparent Armor (Glass areas): Windshield, rear glass, and side glass removed and replaced with bullet-resistant transparent armor. Transparent multilayer glass design is glass combined with a polycarbonate inner layer will prevent spalling upon ballistic impact. The glass is curved (except back window hatch insert) and contoured to retain the appearance of the original glass.
Body: Doors, pillar posts, side panels, kick panels, firewall, header areas, cargo compartment, rear wheel arches, and rear cargo doors/hatch is armored with Armormax ballistic composite material and ballistic steel in accordance with IAC Level 5 (Euro EN1063- B6) level of defeat. Elitus® overlap system is used around each window and throughout the vehicle to ensure complete protection.
Roof: Armored with Armormax® ballistic composite material in accordance with NIJ IIIa standards level of protection at a 30-degree angle.
Floor: Floor areas are armored with multi-ply rigid ballistic fragmentation material combined with Armormax® PAC300, molded to form fit contours of floorboards and panels. Floor protection is installed to protect against the explosion of grenades (single German DM51 or US M-67).
Vehicle Structured Modifications: IAC reinforced pillar posts and hinge mounts, add high-pressure heavy duty shocks where required, and upgrade other suspension components as required to maintain original appearance and maneuverability. This includes: HD sway bars, high-tension coil springs and polyurethane suspension bushings.
Price: While it requires specialized and strict licensing for a weaponized Porsche such as this one anyone can buy an armored Cayenne if they feel the need. The total armoring and vehicle package for this Porsche (without the weapon system) is $168,500 from International Armor Corporation.