December 22, 2014
Bullet-proof Patrol Cars in the U.S. are a Proven Economic Solution For Protecting Officers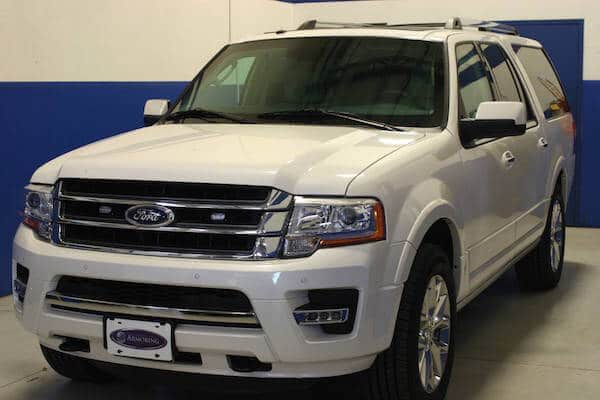 In 2013 alone over 100 United States police officers died in the line of duty. Having bullet-proof patrol cars in the U.S. are a proven economic solution for protecting officers against armed assaults.
Salt Lake City, Utah (December 22, 2014) – International Armoring Corporation (IAC), a world leader in the manufacturing and designing of light-weight bullet-resistant vehicles, announced today that over the past 3 years there have been 5 successful "stops" against armed attacks on security officers. These were of the similar type of attacks that occurred against two New York police officers over the weekend.
Four (4) years ago an International, U.S. based security company approached IAC to develop an economical armoring solution for vehicles used by in-field officers in Africa and parts of Latin America. This security firm had lost numerous officers in the previous years through assassinations by individuals looking to steal the officers guns.  These officers were randomly parked throughout assigned areas in cities for rapid response to security situations. They would be attacked and the assassins then would sell their guns to criminals who commit additional crimes.
IAC designed, manufactured, armored and now services over 800 of these public company's armored vehicles. Since installing the light-weight armoring packages there have been 5 officers whose lives have been saved during attacks on these modified armored vehicles.  This same type of security packages can be designed and installed on ANY police officer's vehicles.  While these armored vehicles are not the total solution to protect against all threats, they have been field proven to save lives.
During 2013 over 100 Police officers died in the line of duty in the United States (according to "National Law Enforcement Officers Memorial Fund").  During the past 10 years, over 1,500 officers have died – many while in their vehicles.  While exact statistics are not known internationally, IAC was able to reduce the mortality rate by over 90% for officers using these armored vehicles in Africa (some were attacked while out of their vehicle's protection); clearly a significant improvement.
About the armor:  IAC's proprietary ARMORMAX® material is about saving weight and increasing performance whiling maintaining protection.  Designed to fit vehicle versus vehicle being modified to fit armor, the IAC ARMORMAX® armored vehicle maintains the original appearance and performance. While traditional bullet-resistant steel plate weighs 13 pounds per square foot, IAC newest generation ARMORMAX® (IAC proprietary armor) material weighs between 1 and 3.9 pounds per square foot. Traditional all steel armored vehicles can add up 3,000 lbs. a vehicle while armored with ARMORMAX® can add less than 400 lbs per vehicle with the same protection. Weight savings per vehicle will increase performance and service life of vehicle.