November 11, 2014
Wealthy Kenyans Purchasing Bullet Proof Vehicles

The penchant of wealthy Kenyans purchasing bullet proof vehicles and panic rooms is increasing in the face of heightened insecurity throughout the country. In a region that has expressed low level of confidence in public security with recent events such as the West Gate Mall shooting and the other high profile kidnappings as of late impacting the perception of tourists traveling to Kenya. Armormax notes that throughout Kenya companies and individuals are feeling more and more comfortable with the benefits from purchasing bullet proof vehicle and security products to better protect themselves and their families.
John Ndolo, director at Armormax says, "while we understand that buying an armored vehicle is not an everyday occurrence, it is unfortunate that people do not understand the benefits of our armored vehicles because it would profit them in the event of an attack or against a variety of threat levels they may face in Kenya. We are trying to create a solution for the everyday attacks that are occurring in this country".
Commenting on the low level of public confidence in the industry worldwide, Tom Fleenor – Managing Director for IAC Philippines observes that the armored car industry has continued to be bedeviled by several challenges relating to image and public consensus. Among these challenges he said, are relative absence of protection from public consciousness. Tom states, "many people have the perception that it will never happen to them. While this is true for a large number of our clients, hundreds of lives have been saved with our products and lightweight armoring solutions that we implement into all of our armored vehicles.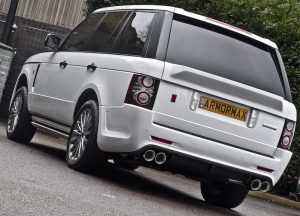 Security experts in the armoring industry say the annual expenditure on armoured vehicles' has risen to over 500 million shilling annually throughout East Africa, and may go higher, following the onslaught of Islamist threats, as well as the coming general elections.
For example one story recently reported in the news about a Nairobi suburb of Karen, a banker's wife was recently woken up by her son who had a robber's gun barrel in his mouth. Four different gangs are said to operate in the area, undeterred by the muscular police presence. A local official described them as "cheeky". In March the vice-president's spokesman, David Mugonyi, was hijacked in his car near the president's office. After being beaten up, he scraped together $1,500 through mobile-banking before he was released. "They brazenly drove with him through the main city streets," a newspaper reported.
Political violence is rising, too. Though Kenya avoided bloodshed during last year's elections, it has since experienced a rash of terrorism and clumsy counter-measures by the police. Last autumn a four-day siege at the Westgate shopping centre ended with at least 67 dead. The Shabab, a Somali Islamist group responsible for that outrage, has since carried out numerous smaller-scale bombings, including one in March when police stopped a Somali driver and, without searching his car, took it to a police station. Bombs in the boot then blew up, killing four people. On May 3rd and 4th, bombs exploded on public buses on the outskirts of Nairobi.
Security forces have reacted with vigour but often without much sense. Soldiers plundered the Westgate centre while searching for attackers. The siege lasted so long, it is widely reckoned, because it took time to cart away the loot. In April police rounded up 3,000 Somalis in a football stadium, antagonising a whole community whose co-operation is needed to uncover the bad eggs within it. A week earlier, a radical Muslim cleric known as Makaburi, who had encouraged young men to join the Shabab, was shot dead outside a court in Mombasa, Kenya's port city. Many people assumed security agents killed him.
Having been in the industry for over 20 years we understand that not everyone needs our products what we try and offer is peace of mind in the event of something happening in places where it is more common. When our executives travel to regions where we are more established we use enjoy using our products for the purposes that it provides. For more information or if there is interest in being a contributor please contact us at 801-393-1075.